WHEN A MAN LOVES A WOMAN
When a man loves the wrong woman, she can do no wrong.
He will tell everyone what a good thing he's found.
However his good thing is known to be other men good thing also.
Come and see this thrilling story unfold and you will be glad you did.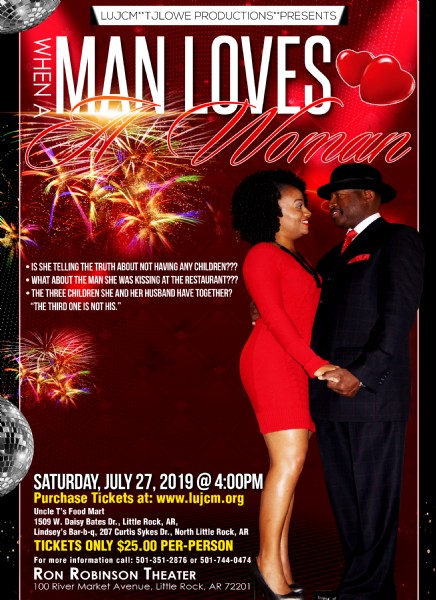 Mission & Vision
Mission
Lifting Up Jesus Christ Ministries (LUJCM) mission is to advance the kingdom of God by bringing salvation to the lost, maturing the body of Christ, and challenging today's youth and adults to be followers of Jesus Christ by dramatic presentations and the preached word. LUJCM mission directs our strategic planning and our views.
Vision
To challenge today's youth and adults to be strong followers of Jesus Christ.
Future Operational Goals of The Ministries:
Travel throughout theUnited States performing dramatic productions that will bring joy, laughter, encouragement and hope to all that attend.

Secure a 500 seat theater where dramatic productions will be performed.This facility will house a theatrical school of performing arts where children will be taught acting, dance, puppetry, how to have good character and much more.

The theatrical school of arts will be an alternative for youth, rather than drugs alcohol and illicit sex.This school will not only cater to those who can afford it but also to those that are under privileged.

The ministry will create jobs and be an avenue for unknown and known individuals to display their talents.

LUJCM will write and produce movies and sitcom that will provide wholesome and lively entertainment for the big screen and national television.